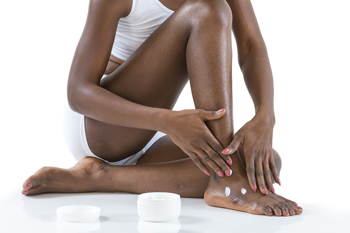 April is Foot Health Month! To honor the importance of good foot health and prepare for the warmer months and more attractive sandal-wearing, we can give our feet the proper time and attention they deserve for all they do for us. Because of all we subject our feet to, they are the part of the body that is most apt to sustain injury. Proper foot care is simple if tended to regularly. The things to do to care for your feet are routinely washing them and making sure to dry them completely, moisturizing the feet to prevent dry, cracked skin, avoiding lotion in between the toes, ensuring the proper fitting of shoes, choosing supportive shoes and socks that are not tight or irritating to feet, alternating the shoes you wear daily and changing up heel heights, wearing clean socks each day that socks are worn, and not going barefoot for extended time periods. Women who are pregnant, older, or have health conditions, like diabetes or poor circulation, need to pay additional attention to specific things related to their feet. For example, pregnant and elderly women need to wear shoes that have better shock absorbency, and women with diabetes need to check their feet regularly to make sure nothing unusual is going on that they may not feel. If getting pedicures in a salon is something that you do, make sure the tubs and instruments used are well sanitized. Most of these suggestions (other than pregnancy-related foot care) apply to men and women alike. Consulting with a podiatrist as part of your regular health care is a good practice to make sure these vital parts of the body are well maintained and painful foot problems, even disability, are prevented.
Everyday foot care is very important to prevent infection and other foot ailments. If you need your feet checked, contact Tanisha Richmond, DPM from Richmond Foot & Ankle, LLC. Our doctor can provide the care you need to keep you pain-free and on your feet.
Everyday Foot Care
Often, people take care of their bodies, face and hair more so than they do for their feet. But the feet are a very important aspect of our bodies, and one that we should pay more attention to. Without our feet, we would not be able to perform most daily tasks.
It is best to check your feet regularly to make sure there are no new bruises or cuts that you may not have noticed before. For dry feet, moisturizer can easily be a remedy and can be applied as often as necessary to the affected areas. Wearing shoes that fit well can also help you maintain good foot health, as well as making it easier to walk and do daily activities without the stress or pain of ill-fitting shoes, high heels, or even flip flops. Wearing clean socks with closed shoes is important to ensure that sweat and bacteria do not accumulate within the shoe. Clean socks help to prevent Athlete's foot, fungi problems, bad odors, and can absorb sweat.
If you have any questions please feel free to contact our office located in Dayton, OH . We offer the newest diagnostic and treatment technologies for all your foot and ankle needs.
Read more about Everyday Foot Care